Want to Take Better Photos? This is How I Take Photographs #1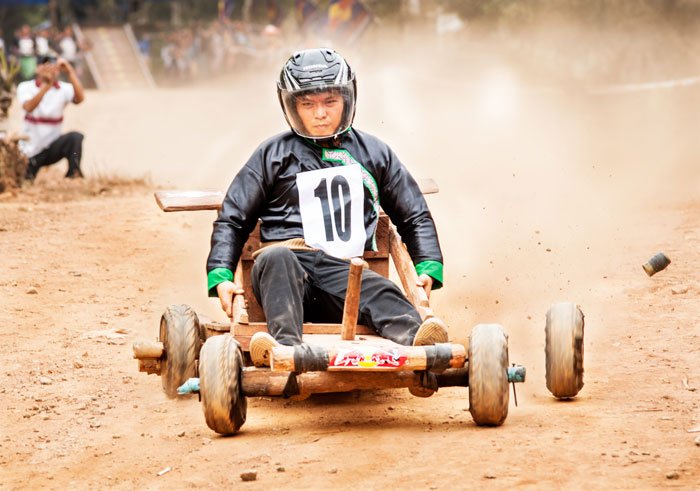 I photographed this Hmong racer during a new year festival near Chiang Mai, Thailand. Action photographs pose many challenges. Capturing the right moment and having a sharp photograph requires preparation. Keep reading to learn how to take better photos.
People often ask me how I made particular photos. In this series of articles I will explain my thoughts and the photographic methods I used when making a featured photograph. In some ways it will become like a manual mode photography tutorial. I only use my camera on manual and always have done.
For some more background on what I consider to be the qualities of a good photograph, please read this article.
Hot Wheels Hmong Racer
Hmong new year festivals are fantastic. The Hmong live in Thailand and also, Laos, Vietnam and southern China. There are also a large number of Hmong people living in the USA. Each year, governed by the lunar calendar, Hmong people gather together for a number of new year celebrations. Figuring out when and where they are can be difficult, but it's certainly worth the effort.
Festivities can include:
Cart racing,
Crossbow shooting,
Top spinning – a team sport
Pov Pod – a traditional ball game,
Parades,
And lots of photography.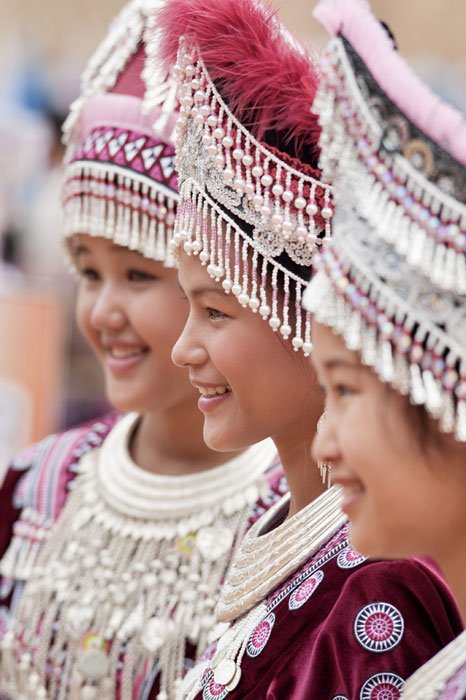 We're Cart Racing
Racing starts early. Sometimes they compete side by side. Other times they are racing the clock. This was the case the year I made the featured picture.
These guys mean business. They move fast. As fast as they possibly can. They run one course until the competition is complete. Carts seem to be strictly controlled as to how they are constructed and are very basic.
If you want to take better photos of them there are some things you need to do first. Scouting the track for potentially good locations can be challenging. It's a great spectator sport so the track's lined with people. I look for where the best action will happen. Okay, I like the corners because there's a greater possibility to capture a crash happening.
I positioned myself at this spot for a while. Then, when there was a break in racing I moved to another location where I could include a little more of the environment and capture the carts coming head-on at me.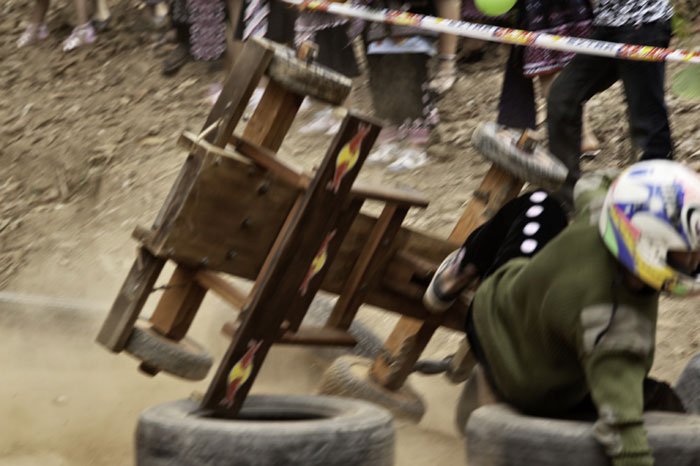 Setting Up To Take Better Action
Photos
I set up to frame the racers so I could also see the ramp, (top left,) and some of the crowd. Including a more than just the man and his machine adds some context to the photos.
Coming hurtling down from the top of the ramp, these guys are flying. I needed a reasonably fast shutter speed so my photos would be sharp. This photo was made at a shutter speed of 1/400th of a second. Fast enough to freeze him, but still allowing some motion blur on the wheels which adds to the feeling of speed.
Focusing on a moving subject coming directly at the camera is challenging. I was using a manual focus 180mm lens. Even if I'd had an auto-focusing lens I doubt my D700 camera would have been capable of tracking the racers as they came towards me.
As the racing started again I set my focus at the point on the track where my subjects were the right size in my frame. As they hit that mark, I made three or four exposures, hoping at least one would be in sharp focus.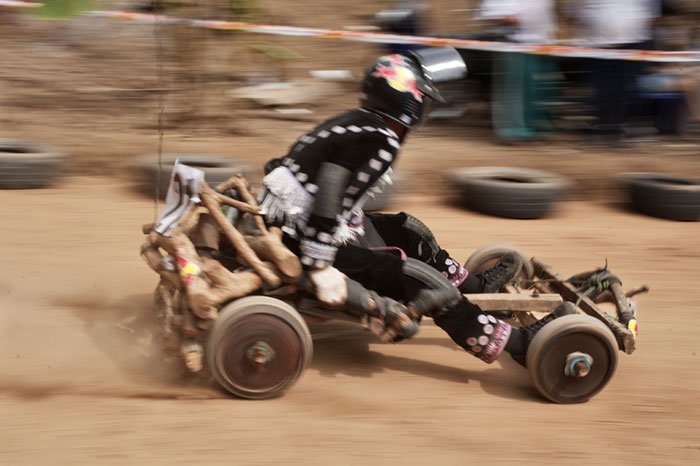 Number 10 Was My Winner
Number ten made my day. Just as he came into focus his axle snapped and he lost his wheel. The timing was perfect for me, not so good for him. Though at the instant I took this photo he was not yet aware of his problem.
My problem was the solid teak wood wheel was free and coming straight at me. I had people directly behind me and was wedged in by the track barrier to my left and a tripod on my right. Sensing pending danger I lifted my tripod, (which had another camera on it,) and lifted my left leg. I felt the wheel brush the inside of the right leg of my jeans. A few centimeters closer and it probably would have broken my leg. At least I would have had the photo!
Action photographs are often pre-planned. Setting my camera manually I knew I had my exposure right and that the movement of the cart would not be blurred. Luck is the biggest factor in this photo. If I had not set my camera up well I would not have captured the moment so well, if at all.
For this photo I used my Nikon D700, 180 mm f/2.8 lens and Manfrotto tripod. The Nikon D700 is an older model camera. The current model of the same level camera is the Nikon D850.
If you enjoyed this article please click the button to show your appreciation