Want to Take Better Photos? This is How I Take Photographs #2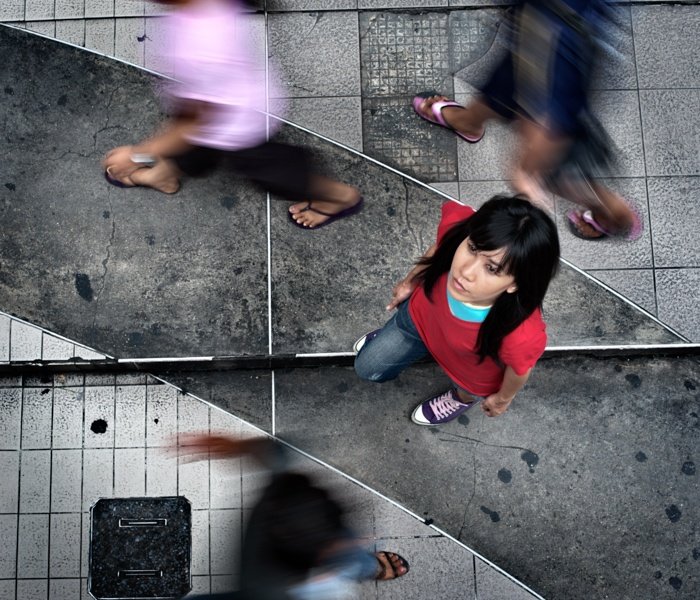 Street Movement Portrait
Photographing on the streets of Bangkok is a lot of fun, if you can cope with the crowds and the heat. Capturing some movement of the people passing was my main aim for this portrait. This is an article about how I take photographs.
Working with someone very patient was the key here. Setting up for this photo and taking enough to make one or two portraits worth sharing took at least an hour.
My main considerations were:
Finding a good location
Being able to set up my tripod
Having a patient model
Capturing the motion well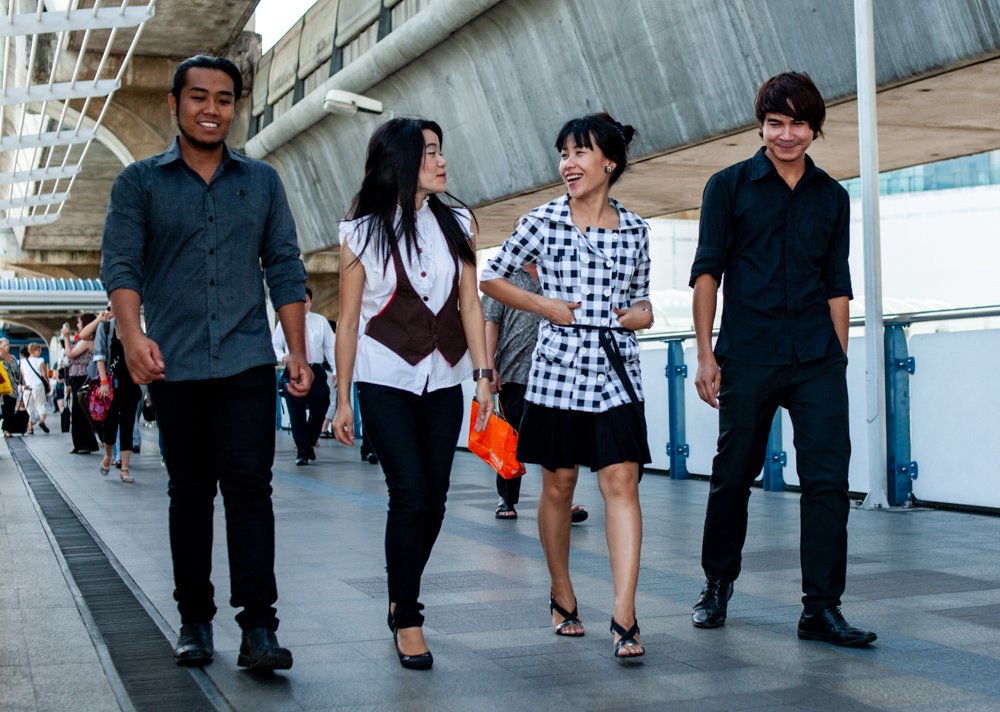 Stock Photos – How I Take Photographs
This portrait is part of a series I made with four young people I was photographing for a couple of days in Bangkok for my stock photography portfolio. I had planned a certain number of locations and setups before we started. I always like to remain flexible to new ideas and places as a photo session unfolds.
Finding this location with an elevated viewpoint was spontaneous. I was standing on the landing of a stairway to a footbridge. These are common but rarely used. Because people prefer to risk crossing at street level there was not much foot traffic on the stairs. This meant I could set up my tripod without being disturbed.
I did not want to rush this as I knew it would take time to capture the photo I had in mind. The location was right as I could look down at my model from a position that was out of the way of passing people. The lines and shapes on the pavement added interest. I framed my composition so the darker, curved shape ran diagonally through my frame.
My models were patient and understood what I wanted to do. By this stage, we'd photographed in a number of other locations. At each place, I had introduced a different technique or concept and explained what I wanted to achieve.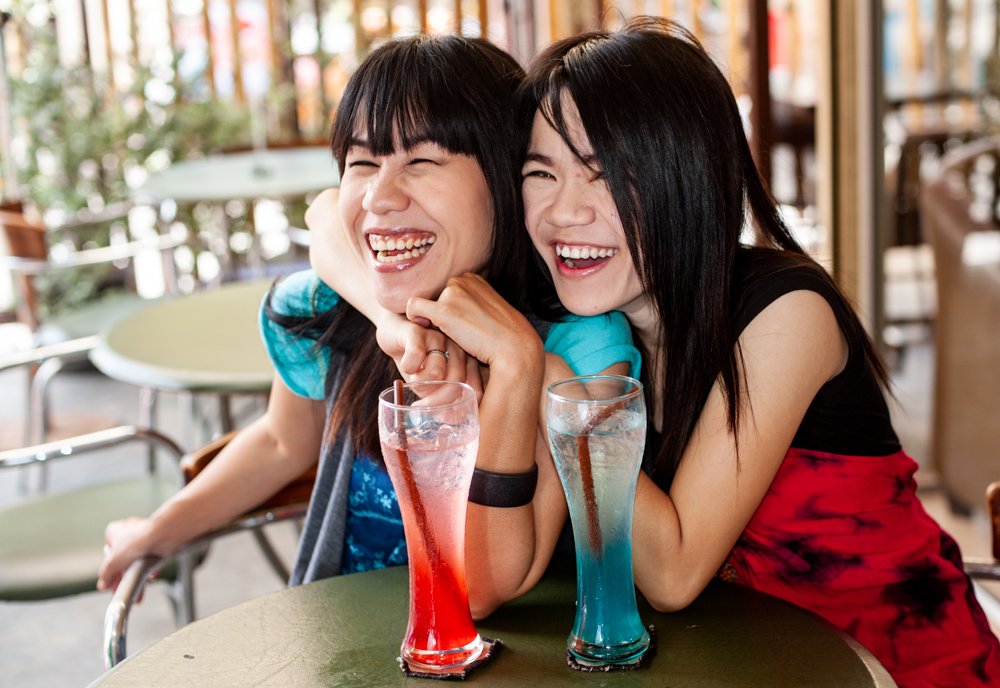 I Explain How I Take Photographs
I find it helps to explain clearly to the people how I take photographs and what I am doing. Here the models needed to stand very still so they would not blur. I was using a slow shutter speed, 1/10th of a second, to capture some movement in the passing pedestrians.
The models also need to understand it would take some time to capture the photos I wanted because of the random nature of the people passing. This was actually the most difficult aspect. Too many people in the composition made it too busy. People interesting in the model as they passed in front or behind her was not good. The right number of people, moving at the right speed was not easy to achieve.
Selecting the shutter speed was an important technical decision. If my shutter speed was too fast, there would be not enough motion blur. The photo would look like a mistake. A shutter speed that was too slow meant the passing people were too blurred and unrecognizable. My model may also have moved slightly and would not be sharp. It was imperative to have her very sharp.
Using a shutter speed slow enough to capture the motion blur meant it was necessary to have a tripod. There was nowhere to rest my camera and I can't handhold a camera while leaning over a railing at that speed. I used my big Benbo tripod which is a very flexible, nonstandard design. This made it easier for me to get the angle I wanted.
A Pleasing Outcome
I am happy with all aspects of this photo. The model was terrific. She understood what I wanted and was patient, enjoying the process. This allowed me to capture the photo I wanted. Had she been distracted or fidgety this could have meant she was also blurred. Having her stand very still and hold her gaze upwards and off camera worked well.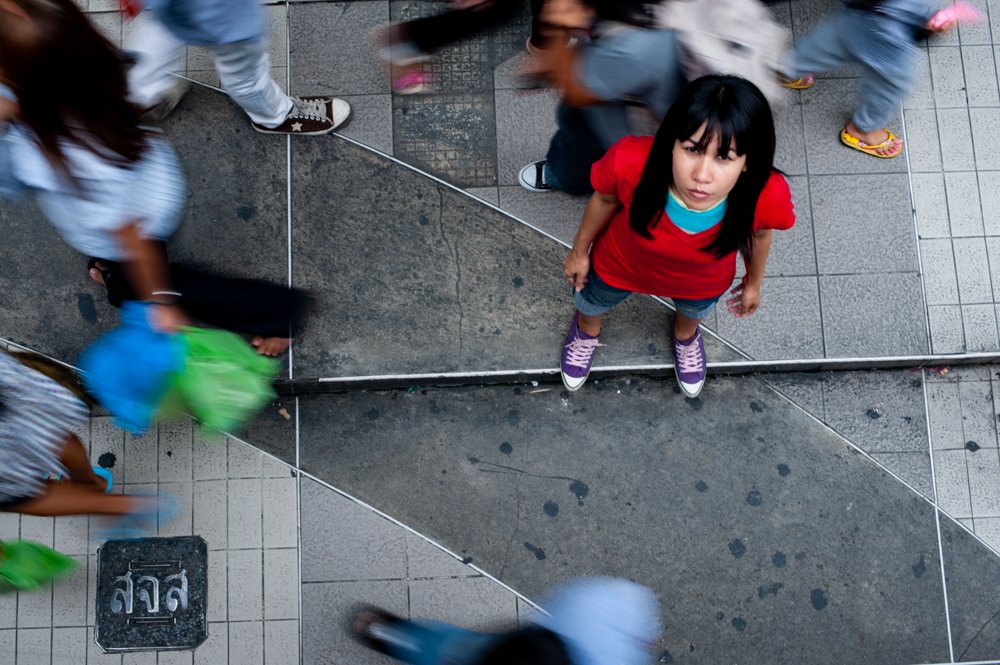 The location was spot on. Out of frame is the base of the stairs on one side and a stall on the other side. This meant there was the right amount of space so people had to pass quite close to her. This did make it challenging to avoid passing people intersecting her. But having time meant it was then a matter of taking lots of photos.
Movement in this photo is satisfying. I love it that the feet of the passing people are relatively frozen on the ground as this adds to the motion effect.
The other main contributing factor in this picture is the color. Her red shirt, with the touch of turquoise showing, helps draw your eye directly to her.
This technique is fun to try. I have a number of portraits made like this in different locations. You have to be patient to get it right. You must also have a patient model who is prepared to go with the flow to help you out.
If you enjoyed this article please click the button to show your appreciation