Following in the Footsteps of a Great New Zealand Photographer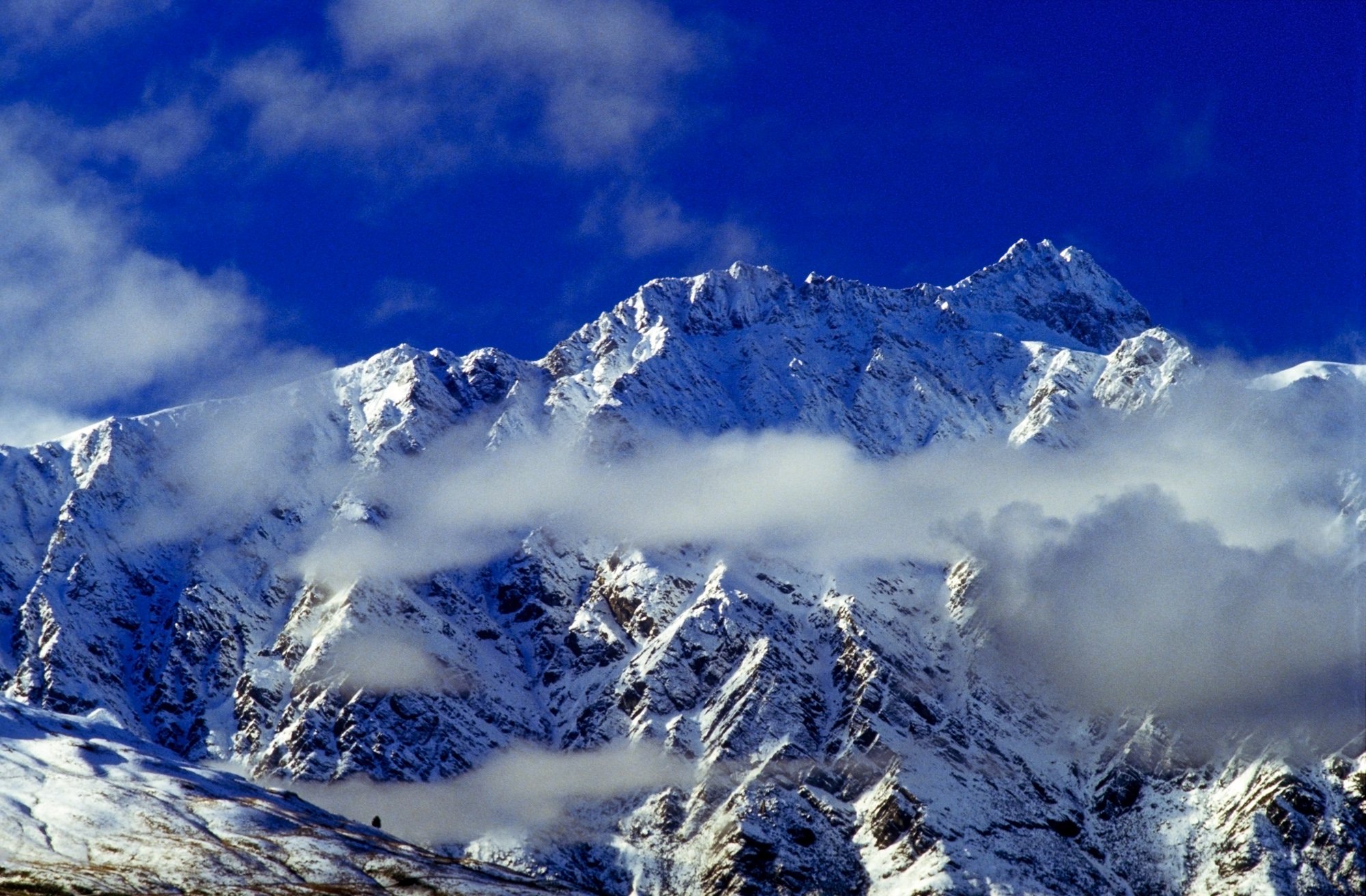 The first photo I took of the Southern Alps. This is part of the Remarkables Range in 1987. The subject material of many a New Zealand photographer these days.
My great grandfather was Frederick Kingsford Jeken Cooper. He was an unknown and unsung pioneer New Zealand photographer. Fred Cooper was one of the first people to put New Zealand on the world map as a tourism destination. He was the first person to photograph Mt. Cook, now known by its Maori name, Aoraki. This was in 1889.
During the second expedition he accompanied a party of surveyors. These men were most impressed with Cooper's skill and dedication to his work. He was only 20 years old at the time. One of the surveyors, T. N. Brodrick, spotted Cooper out on the Tasman Glacier as he returned to camp one afternoon. He said to Cooper. "See that mountain yonder, well I have named it after you." Mt. Cooper is on the map registering at 2,407 meters.
The esteemed Christchurch firm of E. Wheeler and Son employed Fred Cooper at the time of his early mountain photography. All the photographs he made during this era were owned and copyrighted by the firm. Cooper's name appeared on none of them.
Showing New Zealand Off to the World
Assigned by E. Wheeler and Son, the young New Zealand photographer showed enthusiasm and initiative. He traversed the rugged Southern Alps on these two early journeys. Enduring cold and hunger at times to create magnificent images of a land unseen. He was described later as "one of the ablest operators in the colony."
Along with his experiences in the high mountains the firm also sent him to photograph Milford Sounds in 1890. He returned with sixty plates of stunning scenery. Later that year he accompanied Mr.G.E. Mannering, a well-known mountaineer, for a month on the glaciers. His brief was to produce photographs for Mannering's lecture entitled "The glaciers of the Tasman valley". Copper's photos also illustrated Mannering's book, 'With axe and rope in the New Zealand Alps'. These photographs Cooper produced on various photography expeditions throughout the South Island.
My Interest In Family History
Growing up in Auckland, New Zealand, I never had much contact with extended family. My father's family were all in the northern hemisphere and my mother's mainly in the South Island. At some point after I became interested in photography my mother told me a little about great-grandpa Cooper. I had been unaware of his photography exploits.
She gave me a photocopied article from an old newspaper. It contained an account of Fred Cooper's early photography in the Southern Alps. This fascinated me. Later on I met a family member when visiting Christchurch who shared with me some stories. He showed me some glass negatives he believed Fred Cooper had created.
Many years later, as I prepared my first solo exhibition of photomontages, I decided to research my great grandfather a little more. I discovered a blog about early New Zealand photographers containing more information. I found some new information. What captivated my attention was a panorama Fred Cooper had created on his first expedition. It was of five photos of the Tasman Glacier and the Mt. Cook Range.
To discover that in my family history, over one hundred years ago, my great grandfather had made photomontages astounded me.
Camera Differences
Fred Cooper used a common type plate camera at that time. He used 8 X 10 inch glass negatives to make his photos. On his first excursion, he carried with him 60 Ilford brand glass plates in five packs. These were very fragile so had to be treated with care at all times. The weight of the glass alone was over 18kg (40 pounds.) He then still had to carry his camera, tripod, and other accessories.
His camera had a simple Marion lens consisting of two parts. On the front was a wide-angle and when removed acted as a standard lens. The camera frame was wooden with tapered bellows that were most likely leather. His shutter release was a short cable with a button. When the button was pressed the shutter would remain open until the button was depressed. The aperture was probably set by turning a brass disk in the side of the lens that had various sized openings in it. The ISO was determined by the light-sensitive emulsion on the glass plates.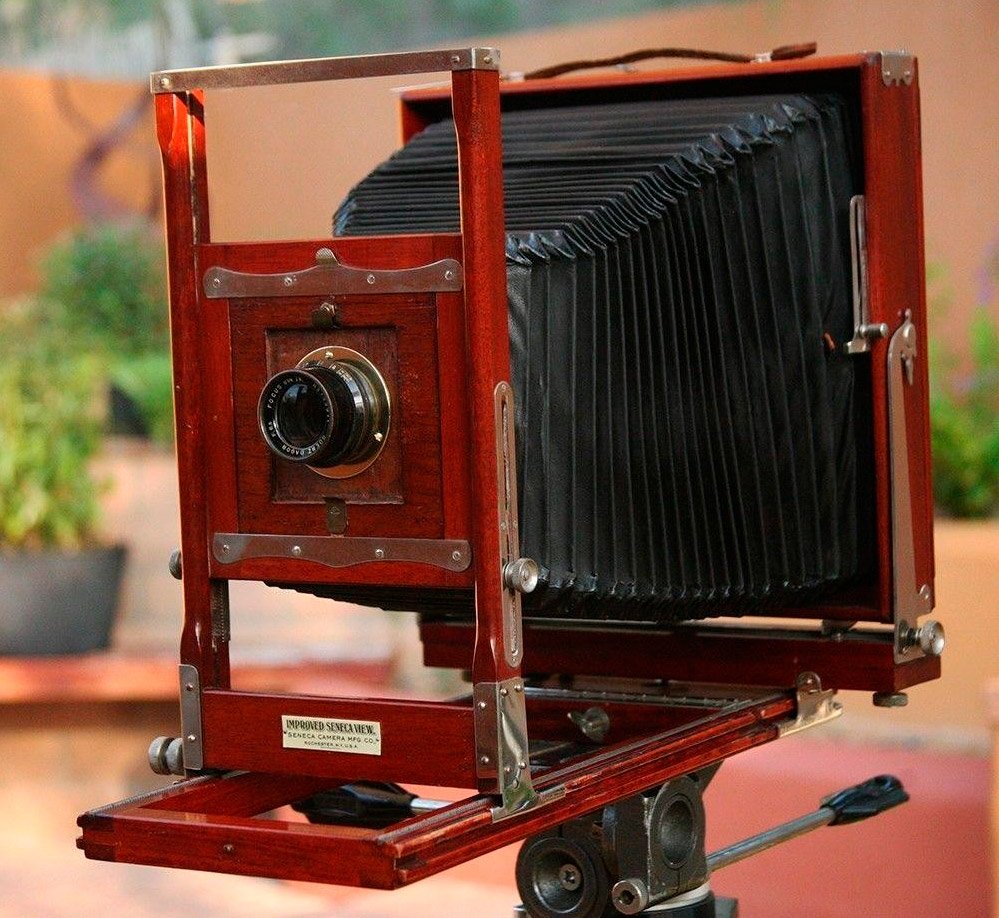 Essential Operation is the Same
The form of Fred Cooper's camera was quite different from a modern digital camera. Essentially the operation of how it made photographs is the same as the cameras I use today. Light enters the lens and is then governed by an aperture and shutter speed to leave an impression of an image on a light-sensitive surface.
There was nothing automatic about Fred Cooper's camera or photography experience. Even the shutter duration was not pre-set. Many years later Fred talked about the difficulty of using such basic equipment. He said, "We professional photographers would not worry about the number of stop to be used. We would judge it. Likewise, the length of the exposure. You see it was all done by instinct."
So at the age of nineteen, Fred Cooper was proficient with a bulky camera that used 8 X 10 inch glass plates as negatives. He hauled all his equipment into the mountains where no other photographer had ventured. He created a series of stunning images that remain part of our nation's heritage.
It's easy to rely heavily on the technology we have in our hands when we hold our modern cameras. Where does this leave instinct? Far away from our way of working. This is why I so often teach photographers that you must learn to know your camera so well you can use it without paying too much attention to it. When you can do this your instinct and intuition will kick in and you will become a more creative photographer.
If you're interested to read more about Fred Cooper's Mt Cook exploration, please click here.
If you enjoyed this article please click the button to show your appreciation