Best Chiang Mai Photo Locations for Tuktuks, Temple, Monks and Markets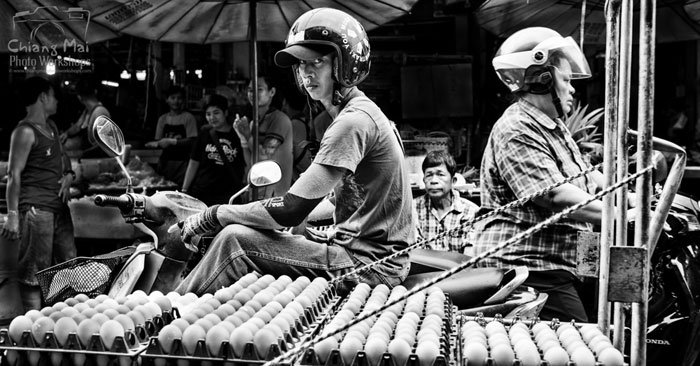 Coming to Chiang Mai for the first time it's hard to find the best Chiang Mai photo locations. Having lived in Chiang Mai for many years, I know a whole lot of the best!
Tuktuks, temples, monks and markets are all great to photograph when you come to Chiang Mai. There are also other fabulous photo opportunities to discover in Thailand's 'Rose of the North'. Here are my best Chiang Mai photo location tips.
Frequently I encourage people not to be travel snapshooters. Don't rely on your subject to make a strong photo. Take your time, think about lighting, background, timing and composing an interesting image.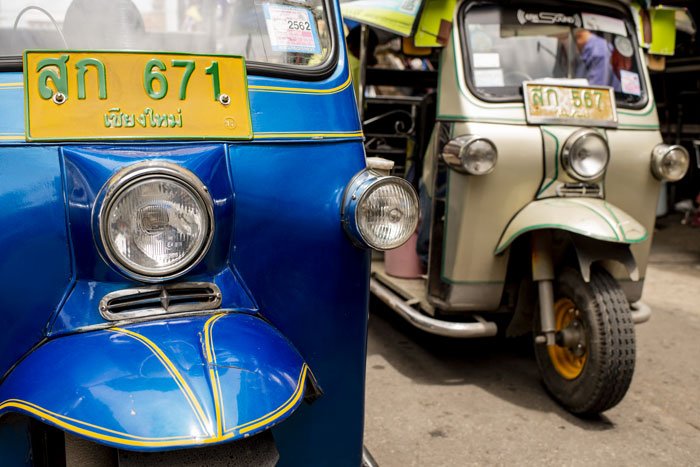 Sure, when you visit Chiang Mai, you have to get a photo of a tuk-tuk, because they are an iconic part of the city's character. So why not hire one to transport you to some of my Chiang Mai photo location tips? You can use as backdrops for your tuk-tuk photos.
Make a Good Start
Start at Wat Chedi Luang in the heart of the old city. Get your driver to park in front of the main temple building for a photo. Then head behind to photograph the tuktuk in front of the chedi as well. Doing this you are creating more interesting photos of both tuk-tuk and temple.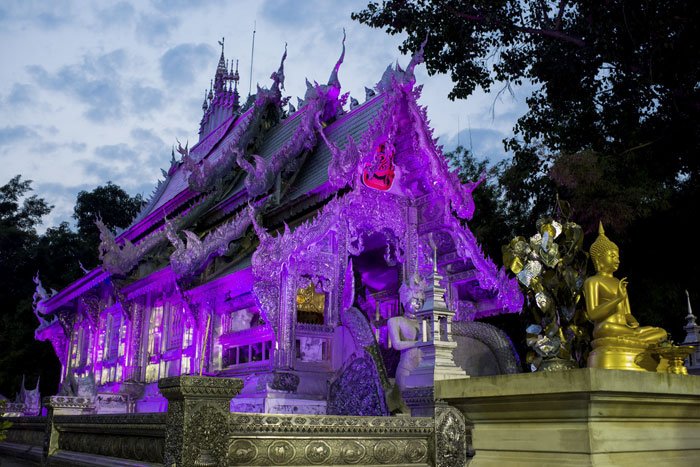 Wat Sisuphan is another of my favorite temples to photograph in Chiang Mai, especially at night when they have the ordination hall lit up. Saturday evening is your best bet to see the lights. They scroll through many different colors making the building look almost surreal.
Another superb night photo opportunity is the historic Iron Bridge which is also wonderfully lit up every night. From the east end of the bridge looking back towards the Bus Bar. This is a good angle to capture the beautifully lit structure and the reflection of the lights in the Ping River.
The northeast corner of the moat with the old city wall is another place to get a real classic Chiang Mai photo. Again, it's great at dusk and also worth taking a look at in the day time. If you position yourself right you can line your photo up to include part of the old wall, the moat and one of the fountains. You might also catch the mountain in the background.
Early Morning Chiang Mai Photo Location Tips
If you are an early riser one of the best places to photographs monks is on Huey Keow Road about 200 meters past the zoo. Each morning at dawn many monks walk down from Wat Si Soda to receive alms from the faithful. The most important thing to remember about photographing monks (or any people) is to be respectful and not interrupt or disturb them in any way. You can read more about travel photography etiquette in Thailand here.
After this you can head over to the Warorot Market for another classic Chiang Mai photo – the samlor riders. A samlor is a tricycle taxi. They are a fading part of Chiang Mai's culture because young men are not taking up this occupation. The hardworking gentlemen are always ready with a smile and generally don't mind posing for a few photos. I always like to tip them well!
Right there on the opposite corner you'll find a mass of color that's begging to be photographed in the flower market. Be careful as you go not to step back into the traffic while you get lost in the beauty of the blooms. Get in tight and focus as close as you can to capture the color and texture of the bouquets.
Yes, There's More!
Of course, there are many more places around the city to get great photos. But these I find to be some of the most stimulating environments to document the look and feel of Chiang Mai. If you want to learn how to best capture these memories of your visit booking a photo workshop is a sure way to gain some new skills and creative insights.
Take your time to learn more. Our Chiang Mai Photo Workshops are a great way to see some of the more interesting out of the way places. Learn to photograph them and also be ready and knowledgeable to photograph the real character of all the places you travel.
If you enjoyed this article please click the button to show your appreciation