How Frightening it is to Reach the Top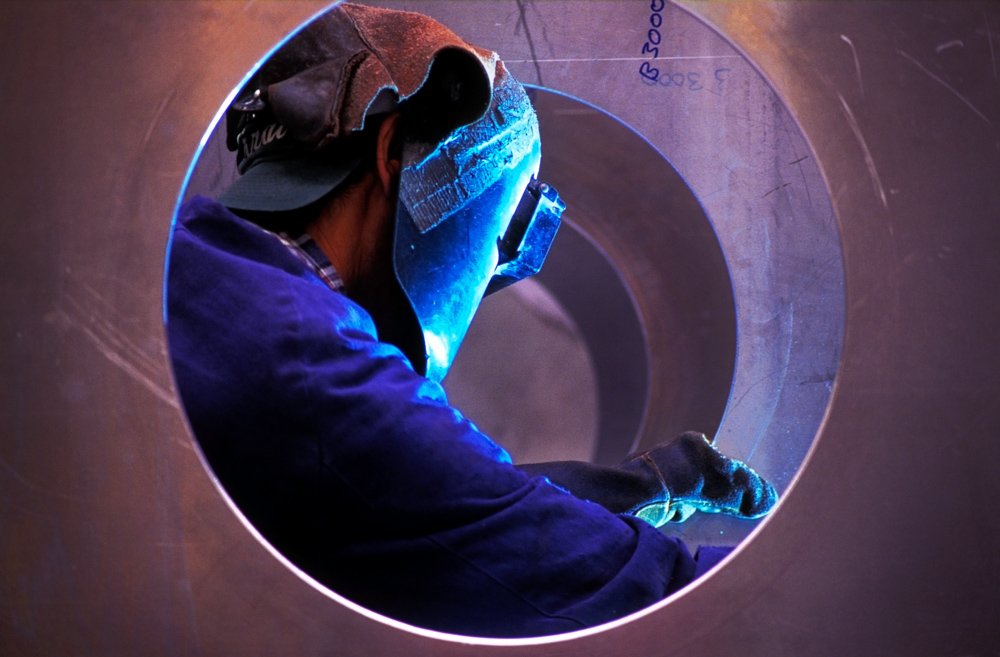 Freelancing as a photographer has many challenges. Reaching the top of your game requires constant commitment and regular production of stella photographs. This is regardless of whether you want to make them or not.
Being able to provide clients and editors with the images they require will keep you in work. It'll also keep you in good relationship with the people who are paying you. Backing away from jobs, no matter how frightening or difficult they may seem is not good for business.
Lucky Business Breaks Freelancing as a Photographer
Sometimes success can hinge on getting a lucky break.
When I started out freelancing as a photographer I didn't feel ready for it. But I had no option. The small photography company I was working with had made a string of poor decisions and I had to move on.
Finding further employment as a photographer was not an option. Those jobs hardly exist. So it was time to step out on my own.
Within a short time I had the good fortune to meet the owner of a boatyard who had a client looking for a photographer. The client was having them build a 30 meter, single mast alloy yacht. He wanted the whole process documented in photos.
Landing a commission like this as I began building my business was a huge blessing. Not only did it mean regular income, but I also got to build up a portfolio of interesting images from this project.
Following a Brief and Expanding On It
Documentation was my main brief. To turn up regularly and photograph the changes being made. Creative license was also welcome. The boat owner was a keen photographer and open to me pitching him ideas.
At one stage I made black and white portraits of tradesmen and staff involved with the yacht's construction. I also made a photomontage when they hauled it out of the shed for the first time.
Much of the work was reasonably straightforward. Working in a busy boatyard had its challenges at times. It could be a dangerous place and I always had to be careful to stay out of the way of the workers.
One Final Frightening Challenge
I have never been much one for heights, especially when they are not 100% stable. Freelancing as a photographer means you sometimes have to do stuff you rather wouldn't.
The single mast for this beautiful sloop was too tall to fit before the vessel passed under the Auckland harbor bridge. The nearly completed yacht was towed from the yard, under the bridge and moored at Princes Wharf.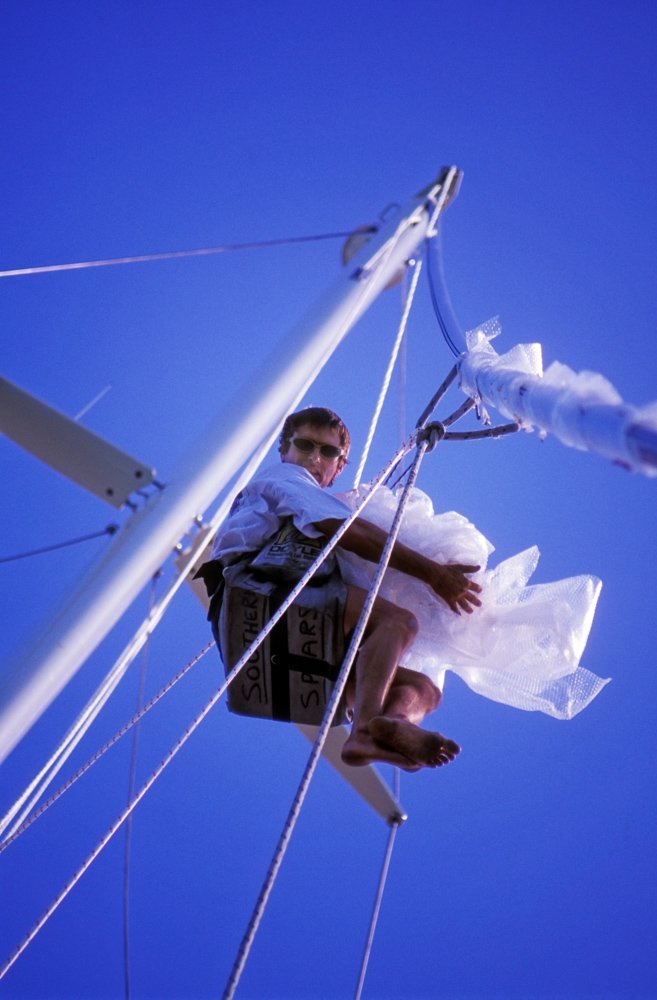 Ascending the Mast
During this time of finishing, I visited to continue my project. Each time I was there a young deckhand would ask me if I was going to get some photos from the top of the mast. He was most encouraging that he could winch me up, no problem.
My reply was that I didn't go up a mast unless it was really stormy and going to make a truly dramatic photo. Of course, this was not true. I was petrified at the thought of being hauled to the top of such a tall mast.
On one occasion I went there I saw the guy who had been making a video of the boat on his way down the mast. I knew this time I couldn't chicken out any longer.
I sat on the bosun's chair. A small board with ropes attached to the main rope that would winch me into the air. No harnesses or safety anything. Up I went with my camera and a 20mm lens attached.
The boat was rocking gently. Climbing higher this movement was magnified and I was clinging to the mast.
Reaching the Top
Reaching the top I realized I had to let go. My 20 mm lens was a manual focus and I would not get a sharp photo with one hand only.
From my bird's eye view, I could see the video guy lying on his back on the deck. It seemed he'd enjoyed the experience as much as I was.
I didn't hang around. Once I had made a few photos, I signaled that I was done. The deckhand started lowering me down. Then I stopped and the rope went limp. I was stuck on something.
The top spreader on the mast had an antenna on it. This had found its way in between my jeans and my belt. I was half hanging onto the bosun's chair and half on the spreader. Thankfully the deckhand realized what was happening and winched me up just enough for me to get unstuck.
Completing the Picture – Freelancing as a Photographer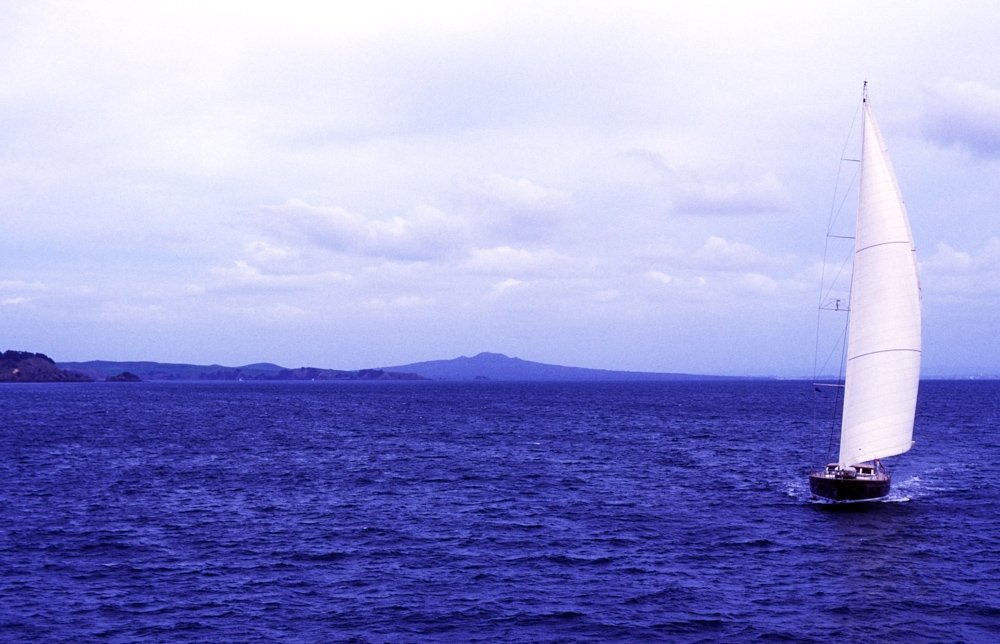 The owner loved the photo so I pitched him another idea. Would he like some aerial photos as his beautiful yacht sailed out of Auckland?
He agreed. I have no problems getting in a helicopter. Freelancing as a photographer I often found myself in them. I am not sure why, but even being in a chopper without the side on, (this is for the photographer's convenience,) never phases me.
The most significant difference between pro and amateur photographers is not the quality of their photos. Amateurs can pick and choose what they photograph. Professionals do not always have that luxury. At times find themselves well outside their comfort zones in order to get the best photos for their clients.
If you enjoyed this article please click the button to show your appreciation