Capturing Depth and Character. This is How I Take Photographs #5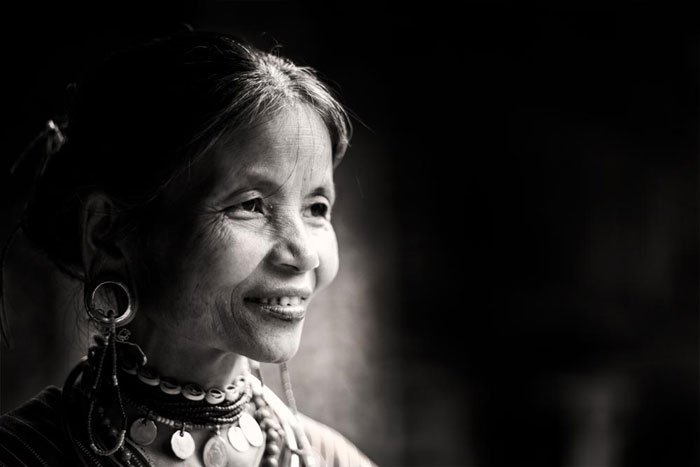 Build rapport with the people you photograph. Photography is far more than just what you do with your camera. Especially when you are photographing people. Being able to capture the character of a person and show some of their depth requires you to connect with them.
To be able to show some intimacy in portraiture it's best if you have the person's trust. This only comes by relationship. It does not have to take a long time, but the person you are photographing must be comfortable with you. They need to be confident in what you are doing.
For them to be confident, you must first be confident in what you are doing. If you have not yet learned to master your camera, you will not master your own creativity. It will be more difficult to build rapport with the people you photograph.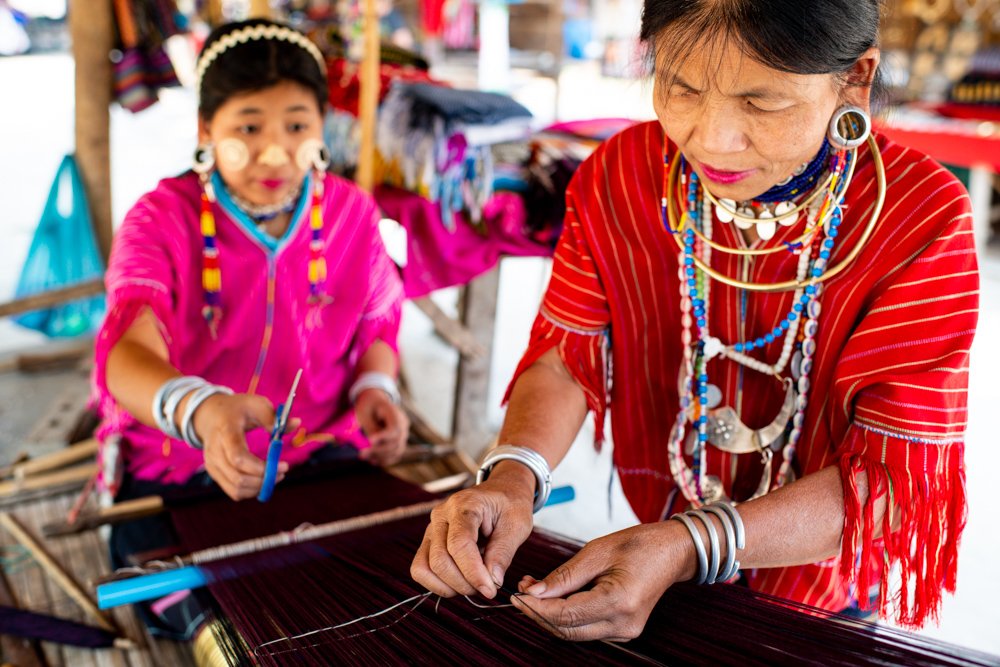 Kayaw Mother
I've known this lovely woman for about four years. She is a refugee to Thailand from Myanmar and lives in Baan Tong Luang village. We visit the village during a couple of the photography workshops we teach. It's one of our favorite places to take photos and we've built some special relationships with the people there.
Not all the people at Baan Tong Luang are refugees. Some of them are ethnic minority peoples native to Thailand. I only discovered recently that her family are refugees. She lives with her two beautiful daughters. Although she has had five children, only two survive.
Even though I've known her for many years, I don't know her name. This is not uncommon in Asian cultures. I did learn a lot more about her during one workshop where a customer was asking her about her life. The customer was speaking English and I was doing my best to translate into Thai as this was the most common language we have.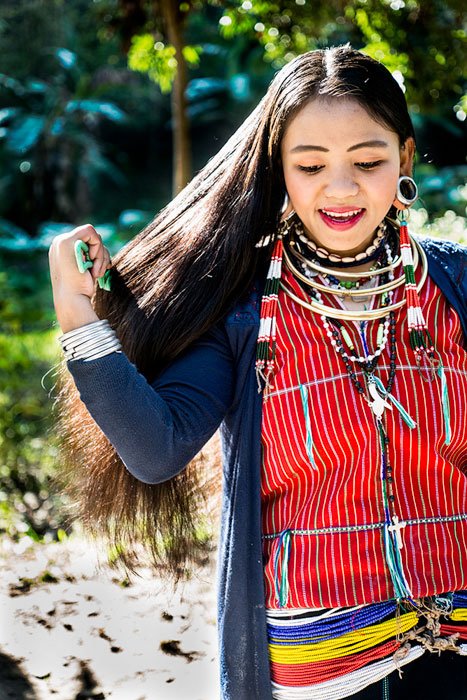 A Rapport Building Conversation
Her mother tongue is Kayaw, she also speaks Burmese and a reasonable amount of Thai. My Thai is not very good, so the conversation was slow. We talked about her family. She and the girls are comfortable living in the village in Thailand because they feel safe. She did not go into details about how hard life in Myanmar was, but I have some ideas.
Over the years I have been here I have known quite a few people working inside Myanmar and the large refugee camps along the Thai border. So many of the stories of hardship people suffer at the hands of the Myanmar military are heartbreaking.
After chatting a while with her and her eldest daughter, I asked about her husband. I had never seen him around the village. Sometimes the men work outside. However, she told me they do not know where he is or if he's alive. 
He went hunting one day with some friends while they were still living in Myanmar. It was not uncommon for a group of men to be gone three or four weeks. His group never returned and they have no idea what happened to them. Shortly after this, they were able to come and live in Thailand.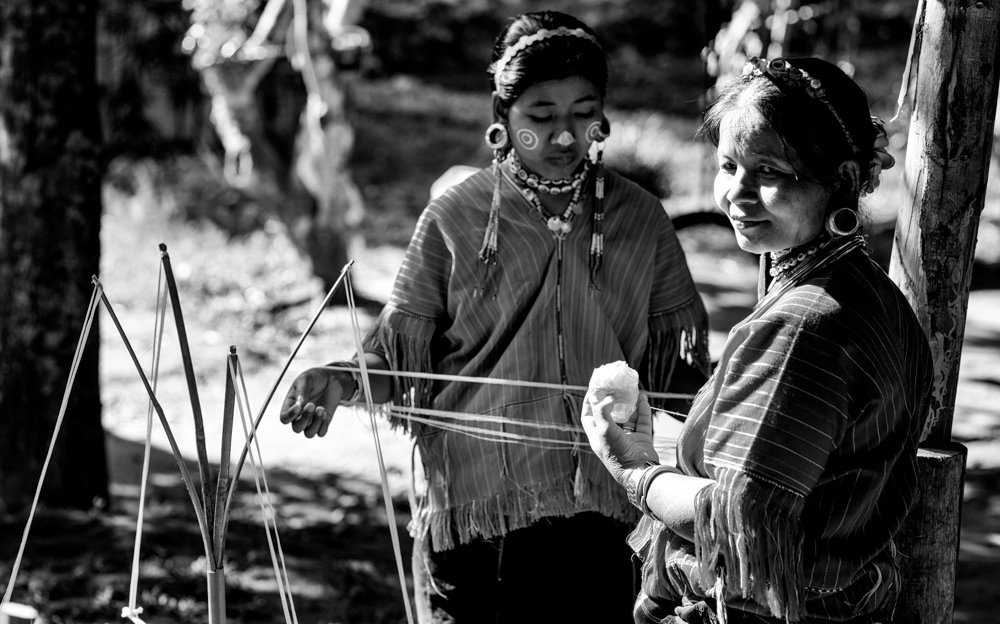 That Conversation Changed Things
Since that one conversation things have changed. I'd been reluctant to pry and ask too many questions. But as my customer was interested and I was translating, this Kayaw mother was comfortable to talk with us. She was pleased we were showing an interest in her and her girls more than to take their photographs.
Now each time we visit I make a point of spending a little longer with them and chatting some more. She is more relaxed and open than before. She's transformed from being polite and letting us photograph her into being quite confident. Even still she insists she is not beautiful.
When Everything Falls Into Place – Building Rapport with the People You Photograph
The day I made this portrait she was supervising her youngest daughter weaving, as she often does. We'd been chatting with them and taking some photos. She then stood back under the shade of the house to escape the heat a little.
As she did I saw the light was reflecting off the ground in front of her up into her face. She was watching her girl weave with such a beautiful, loving expression. Knowing I was taking her photo she ignored me and continued looking towards her daughter. I was able to capture a few frames of her beautiful expression.
The light was right. Her expression was relaxed. She was comfortable with me photographing her. And I had my 85mm f/1.4 lens on my camera. This lens enabled me to frame her the way I have without being too close to her. Using the widest aperture setting I have managed to take out the background. There wasn't anything really distracting there, but the soft bokeh fits perfectly with her expression.
I am confident with my camera. The lighting was soft and not at all challenging for me to set the exposure well. The most important aspect of this photo is that this lovely Kayaw mother trusts me.
A little later I asked her to sit on the bench for me to make another kind of portrait. This one is about 20 images stitched together.
If you enjoyed this article please click the button to show your appreciation