How to Use Outdoor Flash Photography More Effectively
Want to Take Better Photos? This is How I Do It #5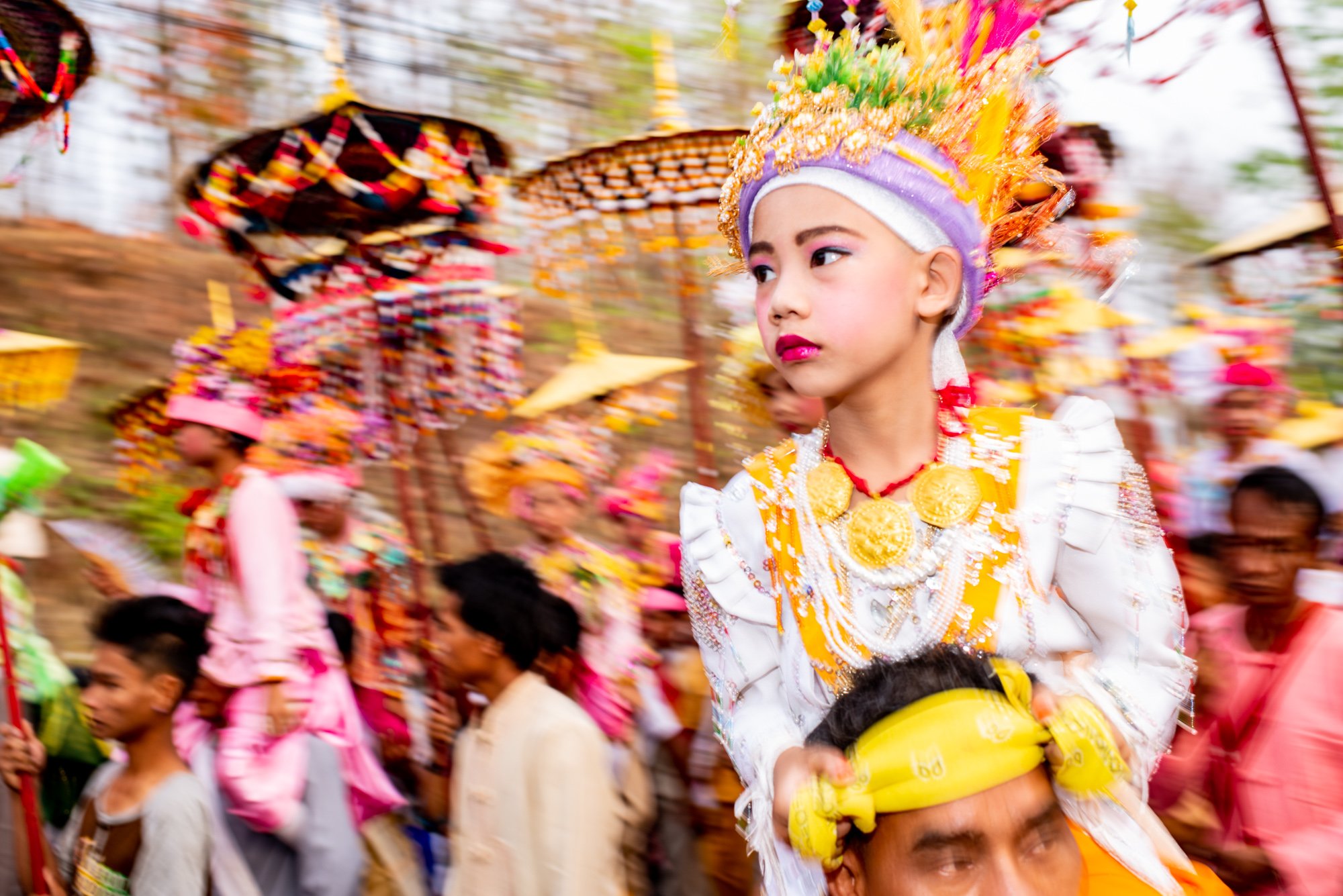 Good photo opportunities can be missed or messed up because of poor lighting. Using outdoor flash, photography becomes more effective and interesting.
Poi Sang Long Festival
Once a year in Northern Thailand the Thai Yai people hold their Poi Sang Long festival. Considered a right of passage ceremony for boys usually between the ages of 7 and 14. They will enter the Buddhist monastic life for a time.
The boys have their heads shaved and apply powder to their faces. They dress in ornate clothing and jewelry in preparation for a trip to the shrine. They are paraded there on the shoulders of male members of their families.
Preparations start well before the sun rises over the surrounding mountains. The whole community joins together in this festive occasion. Opportunities for photography are abundant. But the light is still lacking as the parade begins.
Getting Into Action
Driving north from Chiang Mai for about five hours the day before I arrived at the town of Mae Hong Son. I slept early knowing I'd be waking at 4 am to head out and capture as much of the action as possible.
In the morning it wasn't difficult to find where I needed to be. While it was still dark the temple grounds, where the parade was to start, was alive with activity. Families surrounded the young boys. Talking, laughing and putting finishing touches to makeup and costumes. Many of the boys looked anxious.
I was anxious. The flat dull light made it impossible to truly capture the colorful essence of the proceedings.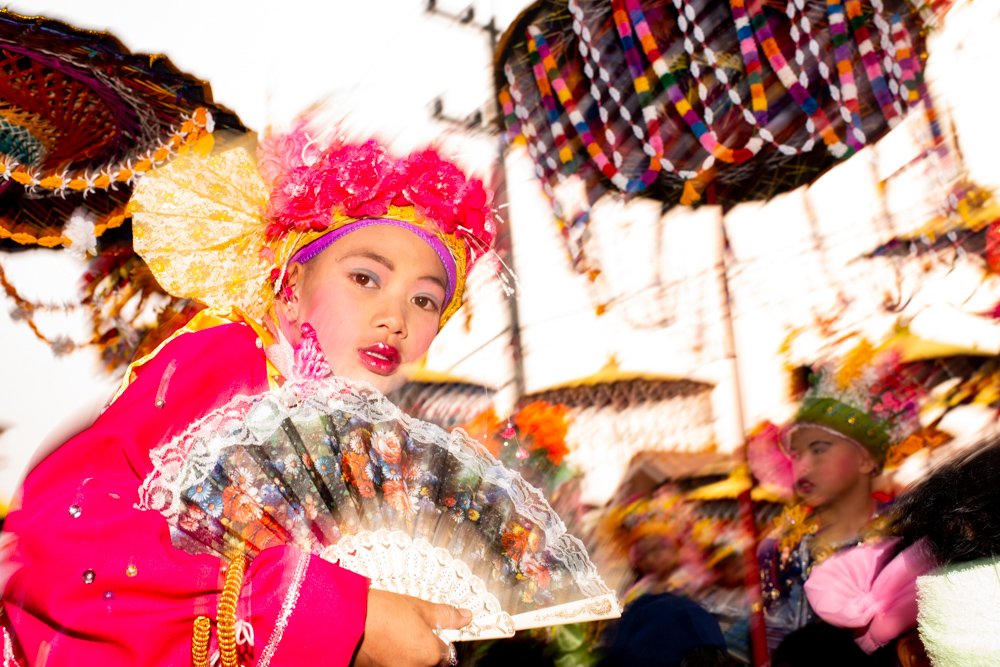 Time To Adapt With Outdoor Flash Photography
As the sun crept up above the hills into the overcast sky the situation improved slightly. But not enough to get excited about. The light didn't equate what was unfolding before my eyes.
As the boys were hoisted onto the shoulders of fathers and uncles and made their way out into the streets I had an idea. It was time to adapt with some outdoor flash photography.
My off-camera flash photography setup for situations like this is as simple as possible. Typically I prefer to modify my flash with a small softbox. But in these hectic circumstances, this would be too problematic. The more compact I can be working in crowds of people, the better.
I popped the simple diffuser onto my Nikon SB900 flash. With my camera set to rear sync the flash, I chose a slow shutter speed to enhance the effect of the movement. I like the motion blur which results more than using front syncing. Having the flash fire immediately before the shutter closes also means the light is filled in just the right amount. Too much or too little flash will spoil the exposure.
Using off-camera flash with Nikon is great. I can control the flash output from the camera and hold the strobe off to one side so it's not direct. The small burst of light the flash adds makes for far more interesting photographs.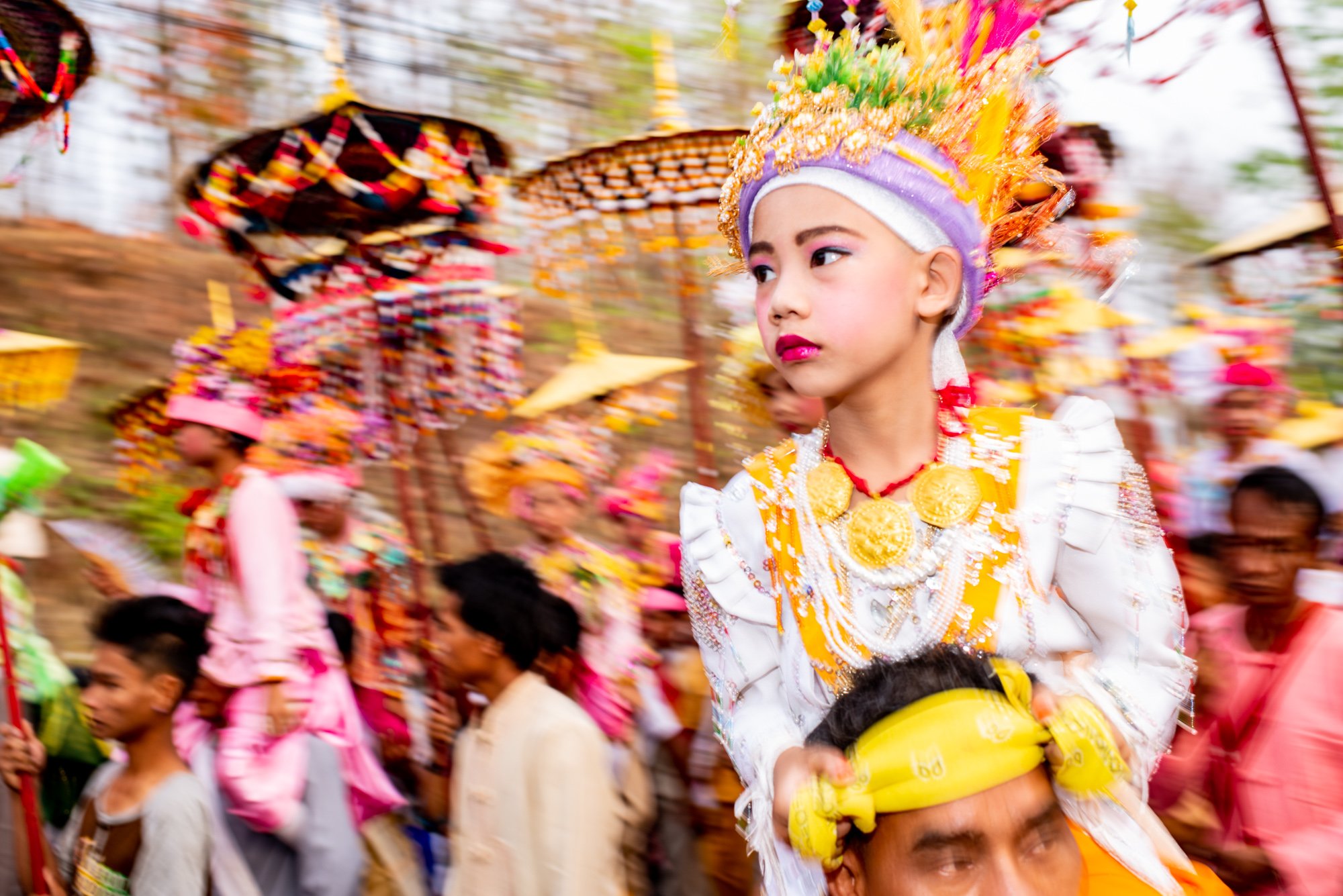 Off Camera Flash Photography Is Challenging
Surrounded by people moving, singing and dancing, operating a camera with one hand is challenging. Holding my camera in my right hand I held the flash at arm's length in my left hand.
I was using my 35mm f/1.4 prime lens. My ISO was at 100 and aperture was at f/5. After some experimentation, I set my shutter speed to 1/20th of a second. At this speed I was capturing a pleasing amount of motion, freezing my subject and expose the images well.
Whenever you're using a slow shutter speed to allow for motion blur, you must balance it with the movement of your subject. The faster the movement, the faster the shutter speed. If your shutter is not open long enough, you'll not see any blurring. If it's open too long, the effect is minimized.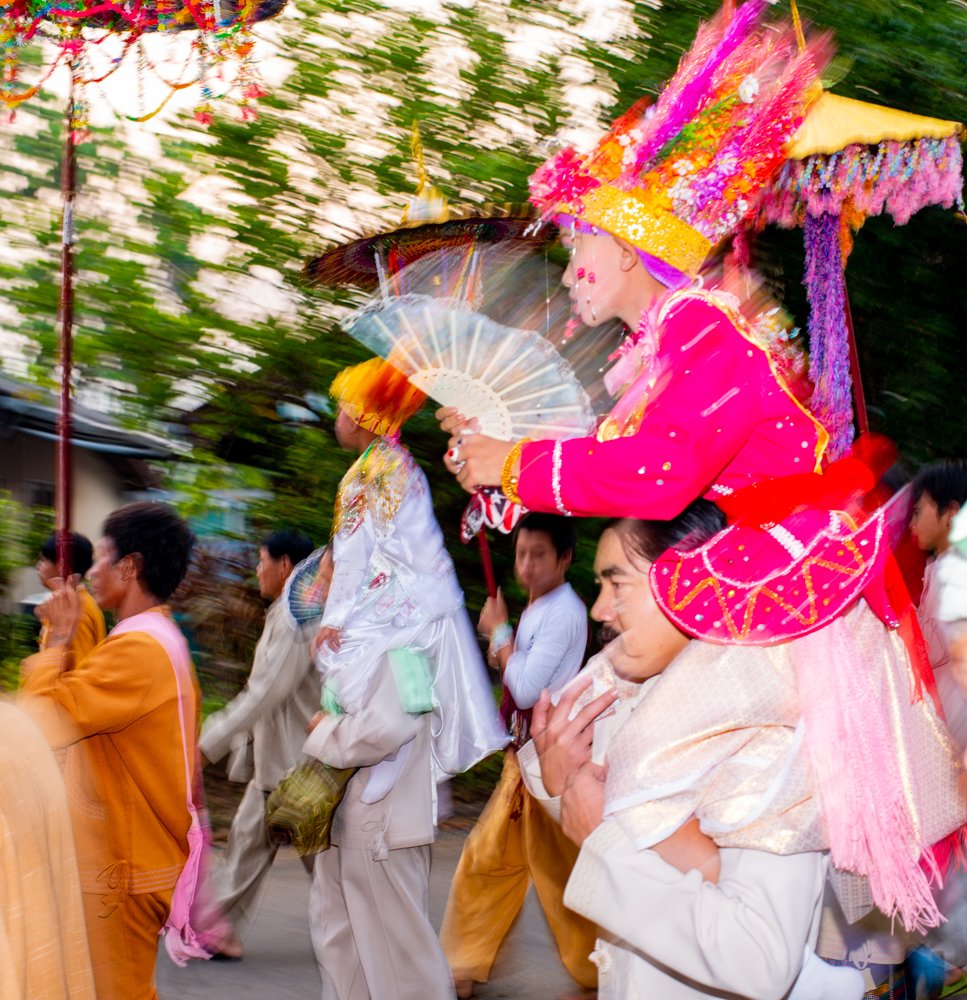 Don't Hesitate to Take A Lot of Photos
Most of the photos I took were eventually deleted. In many of them the timing was off or they were out of focus. Some were too blurred. Others were overexposed. This happened when I was too close to my subject.
The more variables you have in the scene you are photographing the more can go wrong. So you need to take a lot of photos to achieve a handful of good ones.
At an event like the Poi Sang Long festival, it's easy to be prolific with picture taking. There's so much happening that it's impossible to capture everything.
Watching for where the action was best and positioning myself so the background was acceptable I was able to take some good photos. I took little notice of my camera's monitor. Preferring instead to stay with the action. I'd check it from time to time to ensure my exposures we good and keep on working.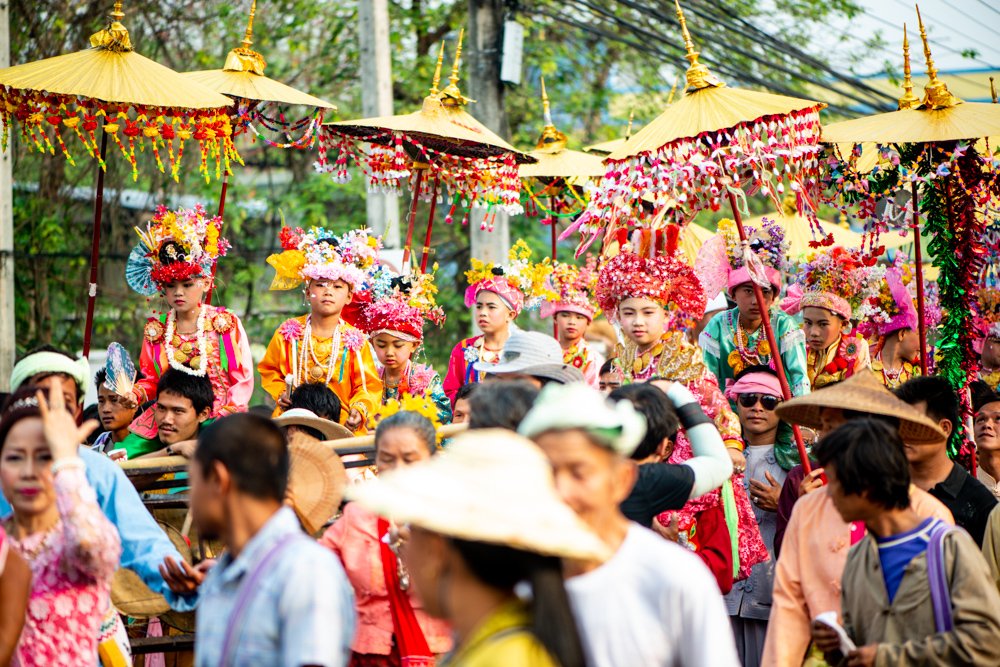 Adjust Photography Techniques as the Light Changes
As the cacophony of clanging cymbals and pounding drums mixed with the vibrant colors of costumes, the sun began to peak through the clouds. Having made its way high over the ring of mountains above the town it now provided pleasing light.
My flash got stowed back in my bag so I was freer to move about. I no longer needed the extra pop of light as the warmth of the morning sun now washed through the streets.
Feeling that I'd captured plenty of images of the flamboyantly dressed boys I turned my camera on onlookers and photographers.
Any event like a parade or festival the crowds are as much a part of the atmosphere as the participants. I wanted to record the character of this event. Including other onlookers was important.
Post Processing For Maximized Feeling
Post-processing allows plenty of scope to add impact to dull images. Having well-exposed photos to work with means depth, contrast and warmth can enhance otherwise dull photos.
Here's a before and after example of one of the first photos I took that morning. This was before I started using my flash. The poor little guy obviously hadn't had quite enough sleep.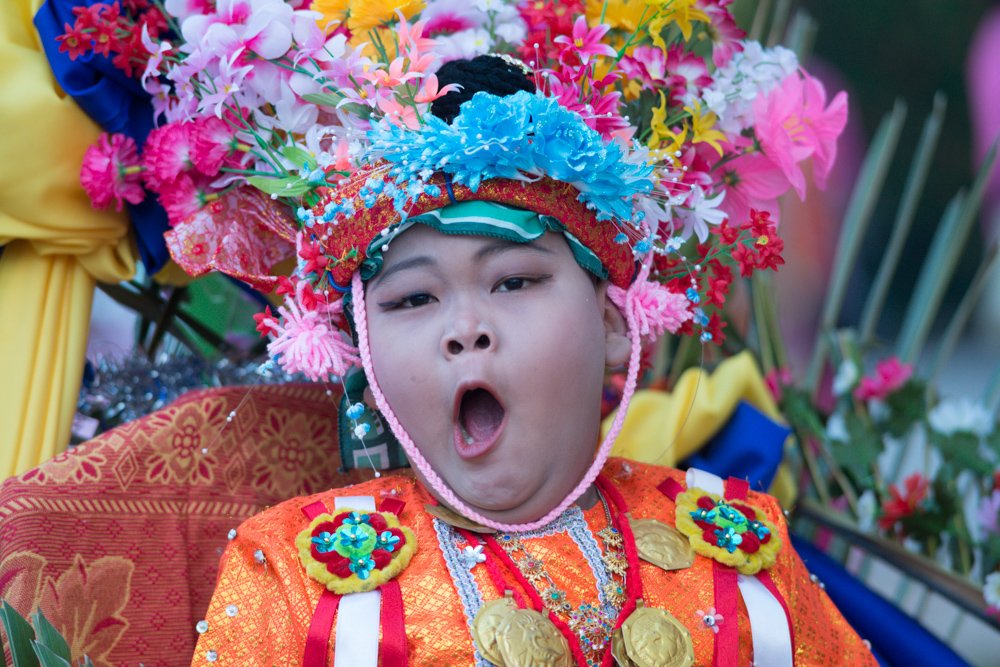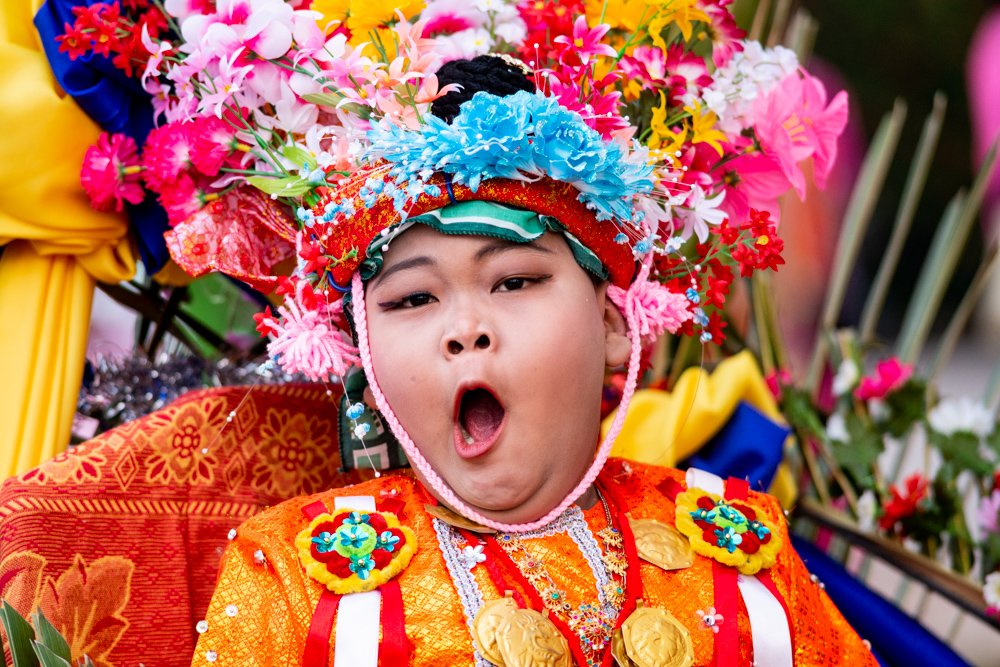 Make The Most of The Light
Photographing a parade or similar event you are at the mercy of the light. It doesn't always work to your favor. So using a little off-camera flash can make the most of a difficult situation.
If I don't have to use flash I won't. So when I do I need to rethink the off-camera flash photography setup carefully. Each additional piece of equipment being used adds complications. It requires more calculations to be made.
Learning to use off-camera flash is very rewarding. Practice it and get to know how you can use it well. Don't wait for parade day. You'll be missing most of the action while you pay attention to your gear.
Get your flash out next time you have a moment. Read some articles or watch some videos about how to use it before crunch time. Experiment. Find out what problems you will face, so on parade day, you can enjoy capturing as much of the action as possible.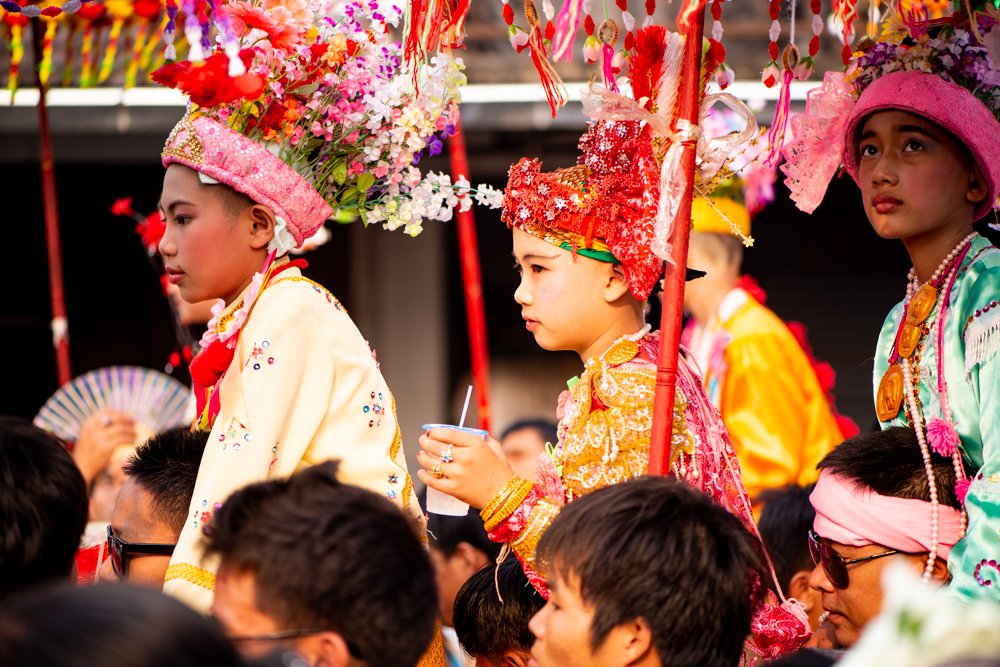 If you enjoyed this article please click the button to show your appreciation