What You Need to Know About Hill Tribe Tourism
Hill tribe tourism has had some bad press over the years. Many people think all hill tribe tourism is exploitive. My experience has taught me this is not the case.
Bad news is easy news to write because people love to read it. Many articles have been written about perceived negative aspects of what's known as 'Hill Tribe Tourism'. Taking a hill tribe tour in Chiang Mai is not uncommon, although some people tend to consider it unethical. Usually, because they have been ill-informed by lopsided media coverage.
It's not difficult to find a disgruntled teenager to share some negative views and then add a more unfavorable spin about hill tribe tourism. This type of story sells more magazines and newspaper copies than a positive story does.
Do you want to miss out on a potentially awesome experience because worried about something you've read? Will you miss out on amazing travel photography opportunities for invalid reasons? Or do you want to have a cultural experience that could change the way you see the world and make some wonderful portraits?
Chiang Mai Hill Tribe Tourism
Chiang Mai has diverse ethnic minorities. They've traditionally dwelt high up in the mountains, away from the cities and Thai majority. We're living in the 21st century and much has changed. Some things more rapidly and drastically than others. Transformation of culture is continuous. The shedding of traditional lifestyle is happening in this digital age faster than during any other time in history. This is being echoed in the lives of these ethnic minority peoples. Many of them have adapted to hill tribe tourism to help improve their lives.
During the years I have spent living in Thailand I have had amazing opportunities to photograph and make videos in hill tribe villages. I have experienced the friendliness of the Lisu, Mein, Lahu, Akha and many other hill tribe communities. I've eaten lizard with the Karen. I have danced with the Akha during the harvest festival. I've sat with Lahu shamen and listened to Hmong Gospel preachers. I've zip-lined across rivers with the Lisu farmers. In every situation, I have considered myself blessed to be a guest, sometimes in the poorest of villages. The hospitality is always humbling.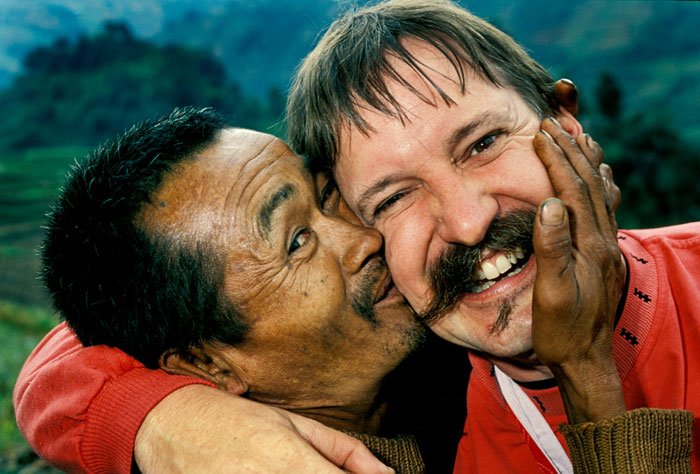 Unless you live here you're unlikely to ever have such opportunities for photography adventures when you tour. And even if you do live here, these experiences would be rare.
Over the years I've produced many short videos for non-profit organizations working with hill tribe groups. This has provided me with access to so many hill tribe villages. Every time I've been to a village I've also had an introduction. Usually from someone highly respected in the community. This introduction means I am welcome with open arms. Often I have been astounded as the locals exert themselves in assisting me to produce my videos and photographs.
Thailand Travel Photography Alternatives
When we first started Chiang Mai Photography Workshops we did not include hill tribe tourism on our itineraries. Before long we received requests from people who wanted to take a photography tour in Thailand and make portraits of hill tribe people. So we checked it out.
I've never been a great fan of tourist attractions. This is the main reason we'd chosen not to make hill tribe tourism part of our travel photography workshops. But as the requests came we decided to visit Baan Thong Luang. This is a tourist hill tribe village in Mae Sa Valley, not far from Chiang Mai.
Sure, it's an alternative to a 'real' hill tribe village, but at no loss to photographers. I've not often been able to photograph people wearing traditional clothing in regular villages. They typically only get dressed up for special occasions. Most of these are not advertised in tourist brochures or websites and often there are very few foreigners present. You just don't get to see people wearing their traditional clothing or living an old lifestyle anymore. Times have changed and will continue to.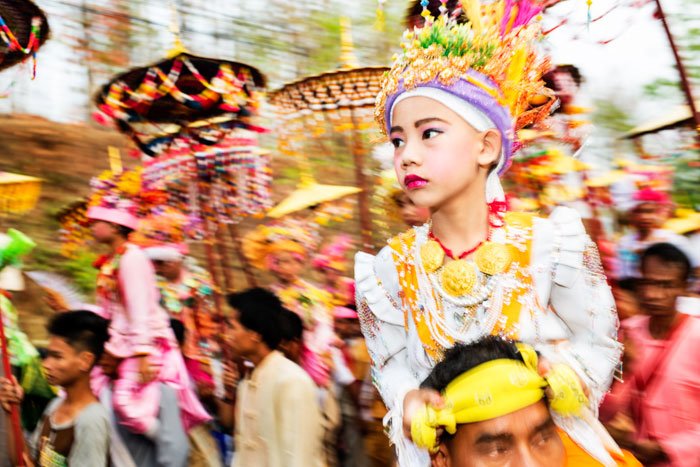 Baan Thong Luang Hill Tribe Tourism
Our photography workshops at Baan Thong Luang guarantee our customers fabulous photo opportunities. You might drive for many hours to the village on top of a remote mountain. You'll probably find the locals wearing jeans and t-shirts, checking their Facebook accounts on mobile phones. Not much hope of finding stunning travel photos there. I know of many travel photography tours in Asia visiting locations considered tourist traps by some. By others, they are wonderful opportunities for photography and cultural experiences.
Tourist attractions like this are commonly accepted in many parts of the world. In New Zealand, my wife and I visited the Tamaki Maori Village in Rotorua. Most of the city of Rotorua thrives on Maori cultural tourism. The United States has many cultural-historic tourist attractions.
Our Long Neck Relationship
Last year we took a workshop in Myanmar. Our client had planned the itinerary and it included a visit to a Kayan village. These are the people known as Long Necks because of the coil of brass rings many of the women wear on their necks.
During our time taking photography workshops to Baan Thong Luang we've built some very special relationships. With one Kayan family in particular.
Before we went to Myanmar I had a few photos of our Kayan friends printed as we would be visiting a village in the area they are from originally. I wasn't sure if it was the same one, but having a few photos with me I knew I'd find out easily enough when we got there.
Hill Tribe Tourism At The Kayan Village
Sure enough, once at the village, I showed the photos of our friends and were taken to visit their family home. We met our friend Masu's father and saw the house where she grew up. Something so simple as having the photos with us and making the connection that we knew the family in Chiang Mai, led to a wonderful afternoon.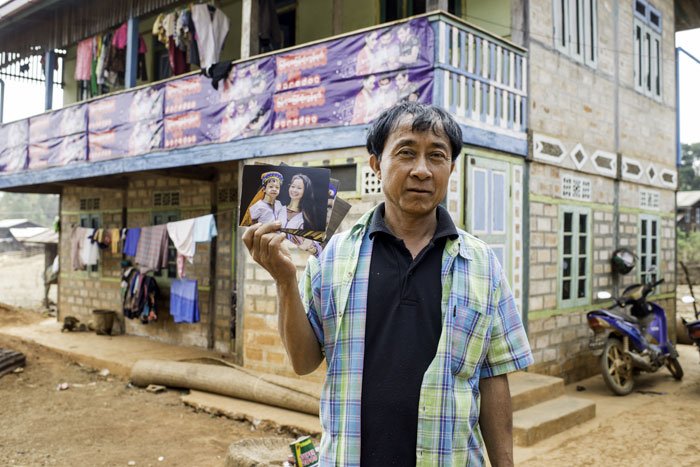 Some form of celebration was happening, (I never did manage to find out what it was for.) We were welcomed with open arms, even only having a couple of photos by way of introduction. Everybody was having a great time. Eating, drinking, playing music on handmade guitars and violins. The atmosphere was terrific. So were the opportunities to openly photograph these hospitable people.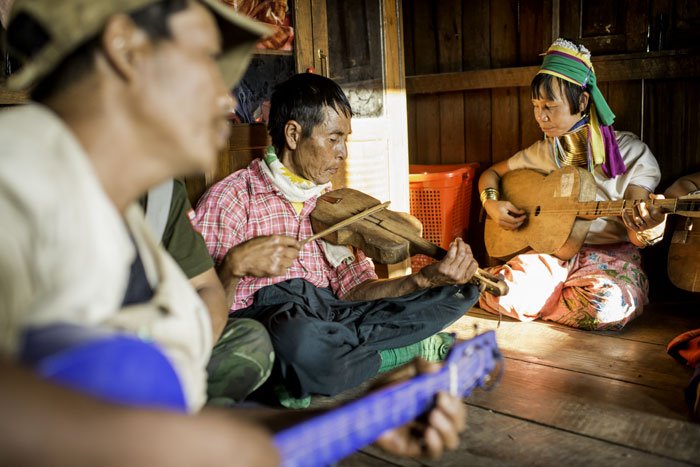 A Hard Life
Walking around the village I noticed there was not much growing. It was the dry season and the place was like a dust bowl. There was no visible water source. There was electricity, (brand new poles and wire,) and a new road into the village was under construction. The old road was dirt. Villagers told us Aung San Suu Kyi had recently visited. She'd instructed the authorities to provide the village with its first power and roading.
One bright young girl we met spoke pretty good Thai. She'd lived here for three years. She took it on herself to show us around. We walked about a kilometer up a hill where she pointed out a dirty pond which is where the villagers went to bathe.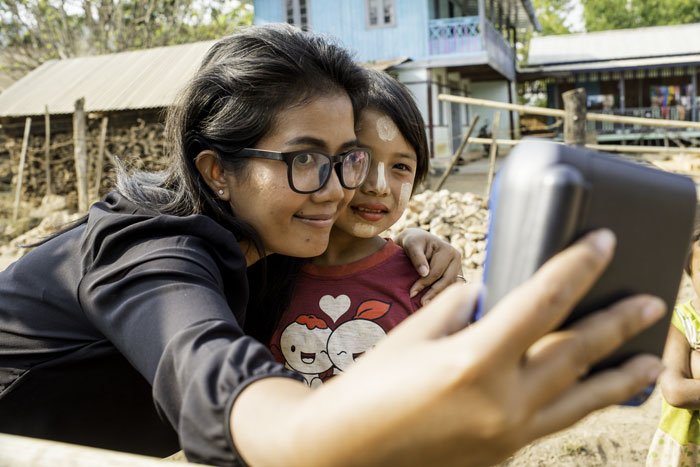 This adventure gave me a deeper understanding and appreciation of the people we know in the tourist village here in Thailand. I can see more clearly now why they are quite content to live in what some perceive as a 'human zoo'. I have no real idea of how hard life in their remote village in Myanmar is. Living without electricity or running water is not in my privileged Western experience. Not to mention the fear of attack from the country's own military.
Empathy, Not Judgement
Experience breeds understanding and empathy. We don't know much of the lifestyle or hardships these people endure. Even living in the relative comfort they have here in Thailand, it's very basic compared to how most of us reading this article live.
Ethnic minority migrants, even some who've lived in Thailand for generations, face struggles to gain status. Even many children born here are not issued national ID cards. They are not Thai by blood.
I'm sure you heard about the recent dramatic rescue of the football team trapped deep in a cave here in Northern Thailand. This helped highlight the plight of some of the boys who were ethnic minorities without ID cards. Once the invitations came for them to travel overseas the red tape was cut quickly and they were issued ID cards and passports.
We produced a video for the International Justice Mission recently. It shares insight into how many of these people are still effectively stateless.
Struggle with poverty often results in risks being taken. The lure of jobs and money in the big city is ever-present and often pushed on the poor hill tribe people by unscrupulous entrepreneurs. Young men can be lured into the fishing industry where they become virtual slaves. Young women are taken south with the promise of a job in a restaurant or factory, only to be forced into prostitution.
Isolation and lack of education have perpetuated these problems in the past. Now, with mobile phones and internet the lure of the big city may be stronger, but maybe there's not quite so much ignorance of what it might be like.
Ask Yourself
Much of the world's population has gravitated to large cities. Many work long hours in factories, construction workers or hawking goods on the street. They earn a meager income and are trapped in a city, still in the poverty cycle.
Is it better for these people to have the opportunity to earn tourist dollars living in a traditional village, even with the touristic adaptations? Or are they better off working in low paying jobs and living in city slums? Is selling trinkets or their bodies on the streets of Bangkok, Pattaya, and Phuket a better alternative?
Even the migrants from Myanmar at Baan Thong Luang I have spoken to are not interested in returning there. There was some hope leading up to the first democratic elections in 2015 that life there may change for the minorities. Now they know the reality. There have been no significant developments for them. They are content to remain in Thailand for now.
Travel Photography Workshops in Thailand
We run our Chiang Mai Photo Workshops with the aim of teaching our customers photography at whatever level of experience you have. Locations we visit include some of the most interesting and photogenic locations. Not only around Chiang Mai but throughout Thailand and South East Asia.
We carefully choose our locations. Not only taking into consideration our customers' desires but also the impact we may have when visiting places. This is especially important when they are more remote. I have been aware since I started photographing in Asia. The presence of foreigners, even if they don't have a camera, can influence some situations.
The more people and equipment on location, the bigger the impact and potential to create an unnatural experience. People not used to foreigners will react. More so when they carry thousands of dollars worth of incomprehensible equipment. This reaction can mean their responses will be affected. The challenge of creating natural-looking photographs then becomes amplified.
Villages, where the people are accustomed to visitors with camera gear, ensure no unusual responses. Natural photos come more easily. Sure, you will still have to work at drawing out a genuine smile, as you do anywhere.
Good Relationships
We've built some lovely relationships at Baan Thong Luang. These relationships mean you will get better photographs. Our purposeful engagement with the people has developed into some real friendships. These friendships extend to our customers.
Early on we realized the importance of connecting on a different level with the hill tribe people who live in the village. We'd seen many guides there, mostly with smaller groups as there's no access to bring big buses close to the village. I noticed the guides only interacted with the people to glean information to answer questions tourists were asking. As photographers we knew we needed to more than this.
We've built relationship through conversations and expressing genuine interest in who the people are. We bring gifts and help financially at times. These things have made an important impact on the quality of the photographs we and our customers can make. Of course, bringing back prints of the portraits we have made and giving them out is always a very special time.
Relating to the person you are photographing has as much, if not more importance, as getting your exposure correct. I've blogged about one very special relationship HERE which lead to me being able to make this photograph.
To the extent you can connect with someone is certainly reflected in the photographs you will make of them. We are your relationship proxies at all of the photography workshop locations we visit. As in any relationship, selfishness does not benefit anyone. Our awareness of this and our belief that being genuine is more important than merely running a business.
Join Us For A Photography Workshop
Please take a look at the selection of workshops we currently offer. Options include: